Heathers Blog
Wednesday, October 12 2016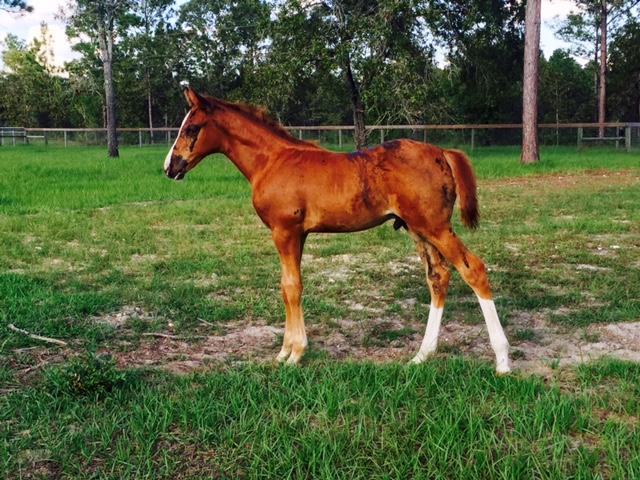 Pictured above: RR Gogh Gogh Gadget
Just a quick update, Gadget is doing super, he is bigger and stronger than the fillies were at his age. He is only 2.5 months old. He is very fun to have around and I think he is going to be a blast when he is finally old enough to be ridden.
We did our first ride in Florida since returning from CA. The New Smyrna Beach 50. Jeremy, Elaine, Marta and I all rode. This ride is almost always a sticky mess. We have camped at this ride two times and after the first time we swore we would never camp there again...after the second time camping there we remembered that we would would never camp there again!:)
The first time we camped at this ride we had two friends staying in the trailer as well. None of us slept. The bugs were coming through our srceen door and we were not allowed to run our generator after 10pm so we were just roasting to death in our trailer while being eaten alive by bugs. In the morning, we all felt like we had been on an episode of Naked And Afraid...Never again.
That said, Marta (our new friend from Spain who is attending college in Gainesville for her masters degree) came to stay at our house on Friday night. We got up at Oh-My-God in the morning and caught the horses to give them their electrolyte mash. We would be taking 4 horses. Jeremy on Lou, Elaine on Rictik, Marta on Gus and myself on Derby.
We left our house around 4:30 am. It is about a 2 hour drive and we needed to check in, set up our crew/cooling area and vet in. The drive was uneventful, always great when it's that way. Elaine met us there.
I did hear of many people who auditioned for "Naked And Afraid" in camp the night before this ride too!:) One person even packed up and drove away in the night. Glad we drove in, in the morning.
We set up our crew area with lots of cooling buckets and put our two big ice chests that were full of ice nearby. (The ice chests held over 300 lbs of ice which we used every cube of during the ride due to the heat) The weather has been CRAZY hot in Florida. This would be no exception. It was calling for low 90's with 75-80% humidity.
All the horses vetted in and we saddled up. The start was a slow mosey for us, as it would be all day. The horses seemed to enjoy being somewhere different than their home training trail. The morning was fun. Loop one went well. The horses even recovered fast considering how hot it already was.
Loop two was going great until we were almost back to camp. There was a log in the trail and Lou went over it and then Gus clunked over it, hitting his knee really hard on it as well as slicing his leg open on a knot sticking out of the limb. He was still sound however so we continued.
The next vet check went fine again, and all of the horses were dealing with the heat very well. Loop three was fun but getting hotter still. The trails at this ride are very repetitive. You pretty much do the race two times with a couple of variations. I still find it to be an entertaining ride. At the next vet check Gus realized that his knee actually hurt. He was pulled. Bummer. Marta's first ride in the USA. Darn. She will be around for the next couple of school years so I am sure we will have many more opportunities for her to get around.
The last loop the horses all did fine. We were sweating our asses off and turning into slap happy dehydrated riders, but the horses were great. They had no trouble and we enjoyed ourselves. We saw a turtle or two out there as well. Good times for sure. After all three vetted in we cleared out our crew area and had a bunch of yummy food that Elaine had packed. After this we hit the road for our two hour trip back. The horses were spectacular in handling the heat and when we got home all 4 galloped around their field.
Our next ride was Skymont which I will catch up on soon.
Heather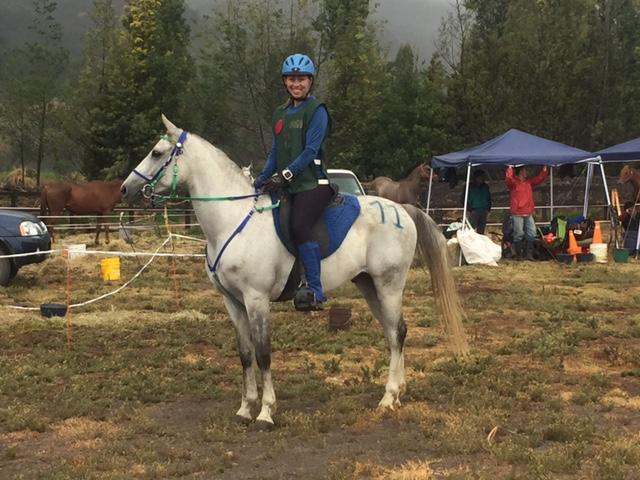 Pictured Above: Jerjes and I the day before the 80 km National Championship in Colombia.
I have once again missed the boat in a big way on posting my blog! On our drive home from California to Florida (back in August!), just after we cleared Auburn, we received an invite from our friend Cristina Mutis to ride in the Colombian National Championship. Jeremy and I would be riding her horses on the 75 mile FEI ride. We thought about it very briefly and agreed to go...When else would an amazing opportunity like this come up?
This ride happened to be only a week after we left CA so we would have to get across the country and get things organized in a hurry and then head to the airport. We managed to get everything done and found ourselves sitting on a plane just a little over a week after leaving CA. CRAZY.
When we arrived in Bogota it was late in the evening and Diego Arboleda picked us up. We had never met Diego in person so I sent him a picture of a bright ball cap I would wear, to which he sent me a pic of an orange Bass Pro hat he would wear. It worked perfectly. When we were walking to the car we noticed that we were at elevation as our breath was short. Bogota is around 8675 feet.
Diego drove us to his farm where we spent the night. It was an amazing old house with a straw thatch roof, like from a fairy tale. In the morning we looked around his farm and met his horses.
It is colder in Colombia than we had imagined. The whole time we were there it was around 55-65 for the high and drizzling rain off and on.
We drove to the ride site, the road was a windy mountain pass. The roads in general are pretty rough. There are also amazingly random speed bumps in the middle of a two lane highway where you were just driving 50 MPH and then... SURPRISE! We managed to not meet the roof with our skulls but had a lot of really close calls.
Once at the ride site it was the same familiar territory of any endurance camp. The venue was really nice, it had an indoor lounge with full catering of breakfast, lunch and dinner that you could purchase as well as hot drinks and a fireplace going. Then there was music playing over a PA system all weekend. Just outside from this meeting area was a covered arena for vetting. There was a very nice social aspect to this event as far as being able to comfortably hang out. There were actually a surprising amount of spectators who had simply come to hang out.
The horse I ended up riding was a friend's of Cristina as the original horse had been hot nailed and was too sore. I was introduced to my grey gelding, Jerjes who I called Hero. I would now be riding the 80 km instead of the 120. Jeremy rode one of Cristina's horses on the 120.
We stayed in an amazing hacienda that was just a mile from the venue. It was an old style house that was made of clay bricks and it had a large open air court yard in the middle of it with the rooms all surrounding the courtyard. It was a very special place.
The race was pretty different than a race in the USA. The main difference was going through the towns. The towns are very busy but small. While riding through town you might see a horse pulling a milk cart, donkeys, goats, chickens, cars, bicycles, people sitting outside, motorcycles and tons of dogs. The dogs were crazy in numbers. (It bacame our joke that in order to be considered a true Colombian you had to own at least 4 dogs) I only rode 2 of my 3 loops and during that time I easily encountered over 75 dogs. All loose, without an owner in sight. Mostly running at you at top speed while barking and lunging at your horse. Hero was great, for the most part he just kept on. There were two times when Hero told me that the particular dog was "BAD" in which case we would bolt down the trail, which I happily let him do. I figured he is a local and knows what to do.
There were also crazy things like manhole covers missing or VERY deep holes in the pavement, the bridges were wood covered in dirt and almost every bridge had dirt that had fallen through a rotten spot in the wood resulting in a leg eating hole in the bridge. It quickly became apparent that you should pull up and cautiously walk over bridges.
The hospitality was super. Riding with the other riders I was offered water and one competitor even bought me a drink out in a town along the trail. The countryside was also very beautiful. It was a wonderful experience.
I was pulled after the second loop. My horse came in looking super. Then he would not recover. He hung at 68. I pulled. He had all A's but a crazy pulse. It was so odd, he gave no indication of anything being wrong. He did seem like he had to pee but it was still crazy to not recover. Around 20 mins after the pull he peed and then was at a very normal pulse. In speaking to his owner about it (sheepishly as I have never had this happen before) he told me that the horse had done this at his last ride too. In watching the other horses that came in, it became clear that at this milage this happened to many others as well. Horses that looked great, not recovering. I still do not have an answer for this. The ride was at around 9000 feet and it was humid but not hot (sweat shirt on, sweat shirt off all day). Jeremy made it 50 miles of his 75 and had a very similar experience, almost not recovering and then ultimately getting pulled for a subtle hind end lameness.
The ride was fun regardless. All of the competitors stayed afterwards for a dinner and awards ceremony. I have not been to a race in over a decade where people have actually stuck around to enjoy themselves after a race. This was so much fun.
In our remaining days in Colombia we went to Cristina's farm (at 10,000 feet) and saw her awesome horses and also went for a ride. She also took us to many local places and let us try the local flavors at restaurants. The food was incredible.
We really enjoyed Colombia. If you ever get the chance to go, take it.
Heather