Heathers Blog
Tuesday, February 09 2016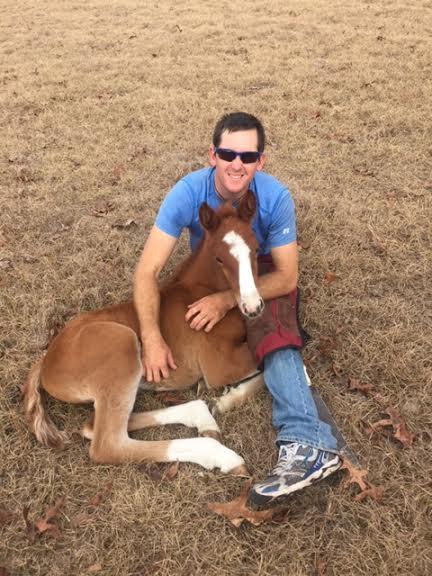 Picture is of RR Super Cool. Dam is Treasured Moments, sire is TH Richie. Foaled 1/25/16
It seems like I haven't done a blog in forever and I guess I haven't! Our herd has been keeping us very busy. After Big South Fork we headed on back down to Florida. We have so many younger horses that needed qualifications as well as Jeremy's new horse Danire needing to refresh his FEI rides that we went to the Scenic Spruce Creek 50. I took Sudden and Jeremy rode Danire while our friends Pam Peacock rode Lou with us for the first half and her LD ended half way through the 50 (it was nice that we had the same start time and the same trail so that we could all stay together), Robert Ribley rode Chachie and Mallory Capps rode Benz on the 50 as well.
The night before the ride Pam and Mallory stayed in our trailer and it was really HOT and humid out. We were not allowed to run the generator (in hindsight we should have any ways!) To make matters worse, somehow mosquitos were finding their way into the trailer. No one slept well, it felt like we were all on an episode of Naked and Afraid.
All of the horses finished and Danire did a 1* while we were at it. All of the horses were in Easycare products.
The next ride we did was Broxton Bridge in November. I once again rode Sudden. He did his last 50 needed to complete his novice FEI qualifications. He also won BC and high vet score. Cool little horse. Misty McAdams took Kellora on her first 50 and finished looking great. Jeremy rode Danire in the 2* with Nicki Thorne riding Errow in the 2* as well. All of the horses had a great day. Danire got BC and high vet score.
On the second day I crewed while Jeremy rode Rictik on the 1*. Rictik came in 2nd with BC and high vet score. Really a great weekend. The horses all looked fantastic. All of our horses were wearing Easyboot products.
Our next outing was Autumn Gallop. We had a few young riders at our house for Thanksgiving as well as my two sisters and parents. We all woke up really early and loaded up the 6 horses. It was a bit over 2 1/2 hours of driving. Jeremy rode Chachie and won the 50 with BC and High vet score. I rode Sudden, Tori Uptegraft rode Benz, Haley Moquin rode Code, Eilish Conner rode Kellora and Holly Jonsson rode Lou. Another successful weekend. All horses wearing Easy Care products.
Next up, (It really was a long time since my last blog!) we went to the Goethe 25. Jeremy rode Sinister, Tori rode Nemo, Eilish rode Code and I took Derby. They all did well considering they are all rookies and we had a lot of cross traffic with the lead group from the 50. Very pleased with them. All of them had Easycare products on their hooves. In case you haven't realized it, we do not take our horses to rides without some form of Easycare product protecting their feet. We believe it is truely a big part of our success.
In the midst of getting all of these rides done we were also invited to compete in the HH Sheik Hamden Bin Rashid Cup in Dubai. Irish rider, Hilda Donahue was also invited and did not have a horse. We agreed to let her ride King. Jeremy was the alternate and was to be the back up rider and I would take Honor. In the end, after doing all of the paperwork, vet work and logistics we were taking all 3 horses. The OC decided they wanted Jeremy to ride as well.
Because the USDA labs are not open for the holidays we had to fly out very early. We arrived in Dubai on the 19th of Dec. and stayed until the 14th of Jan! A very long time. You've never seen how daunting a buffett can look after that many days. All joking aside it was a very long time to be away from our farm. My younger sister Hannah came with us to help care for King so that we would have three people with three horses. It was fun. The part you don't hear about is that it is not a trip of leisure.
You get up, have breakfast, leave the hotel, drive an hour to reach the barn (which is in the middle of the desert), log in to the quarantine barn (with your security badge), feed, clean stalls, ride, turn out horses (but only if you are in the vicinity of the stable, otherwise the horses must be in their 10x10 stall). Then the stable closes from 12-2 pm. You can then decide what to do. A) hang out in the desert so that your horse can have turnout, or B) drive an hour each way to your hotel to eat and eventually return to the barn (another hour of driving) to feed, blanket and end the day. Then an hour back to the hotel. By now it is around 7-7:30 pm. Grab food and go to bed. Repeat...
After a month of this schedule you are really itching to get home. Any how, we spent Christmas and New Years at the hotel and had a lot of fun throughout our stay. It was fun to see endurance people from other countries while at the hotel.
Madiya had Jeremy and I ride in a 50 the day after Christmas. That was a really fun day. Madiya is great. Her horses were nice to ride and a couple of them were ones she bred and raised. She does it right and trains her horses well and progresses slowly with them.
Our crew arrived a few days before the race. Jeremy had Tim Reynolds and Adam Farmer, I had Tenney Lane and Holly Jonsson. My sister Hannah Spinner crewed for King and my mom, Jean Spinner came out to help as well. It was a great group of friends that helped us. We couldn't have asked for a better group.
On the day of the race our two drivers helped us as well. In the end it was only Danire and Jeremy who finished from our three. Honor made it 70+ miles and King made it 89 miles. Both were lame.
The day after the ride we took care of the horses and then hung out at the pool for our final day with the crew there. It was relaxing. The next morning everyone except for me left. I stayed with the horses to help load them up for their return trip.
Now all three horses have long since returned. They are all happy and well. Another thing you do not here about is that it is not a free trip. We chose to go and we agreed to pay the import export fees on our horses. This was very, very expensive.
While we were in Dubai we had 4 horses go do the local Florida FEI ride. We wanted to support the Greenway ride so we entered our horses even when we were out of the country. On day 1 Eilish rode Rictik in the 2* and did a nice job. Rictik looked great. Also on day 1 Annie Whelan rode Sudden in his 1*. She took great care of him as well. A special thank you to Jeremy Olson for riding along with Annie and Sudden and also to Tori Uptegraft for crewing for both horses. On day 2 Tori rode Code in an open 50 and Eilish rode Chachie in his 1*. Another successful day. Thanks girls:)
Shortly after we returned from Dubai was Jeremy's birthday. Jeremy's birthday was fun. We got to go riding with Shania Twain and her husband, as well as a good friend of ours. Then we went to dinner with a whole bunch of friends. Good Times!
The next race we went to was the On The Edge. We did two days of LD's. Day 1 Jeremy took Sinister and I rode Benz, we got really wet, it rained pretty good but it wasn't cold. Day 2 Jeremy rode Liger, I rode Barkode and Holly rode Ready. Day two was really COLD. All of the horses had on Easycare products once again.
Our mare Treasured Moments had a beautiful Filly on Jan 25. sired by TH Richie. She is super duper cute. We are naming her RR Super Cool, as that is what we keep saying when we talk about her...She's super cool.
The most recent ride we did was the Broxton Bridge ride. Another 2 day. Day 1 Jeremy rode Lou on a 50 and I rode Sudden on the FEI 75. Jeremy finished and I won and then got pulled at the finish. I was beating myself up after Sudden was pulled. You know the whole, should have would have could have... maybe I shouldn't have... Maybe I... you know. Any how as I was poulticing him I found sweeling on his back legs and then was even more upset with myself (which was kind of goofy considering the horse looked great otherwise). As I fell alseep I suddenly realized that the swelling matched up with where the top of his hind interfernce boots would be. The next day I looked and sure enough that was it. Oh well, at least I didn't really hurt him. Bummer though.
Day 2 Jeremy rode Chachie on the 75 and I rode Derby on the 50. Chachie came in 3rd and got High vet Score. Derby finished easliy as well. More Easycare products:)
Our next ride will be the Down Under Youth Benefit at Tidewater. We hope we see you there! If you have interest in knowing more about the Easycare products come find us at the next ride, we are here to help you do well.