Heathers Blog
Wednesday, November 30 2016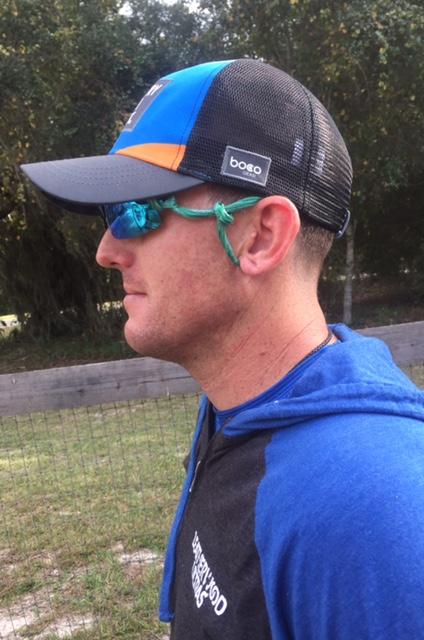 Pictured above: Jeremy's solution to losing an arm on his sunglasses mid race.
Well I am running behind on my blogs. We have been racing every weekend for the last 6 weeks. Finally we have the upcoming weekend off so I am catching up. We did the Boggy Creek ride three weeks ago. (On the way to the race Jeremy told me the only thing he wanted out of the weekend was to see a bear! He had seen a couple at this ride last year.)
It was a lot of fun, as usual. Our friend Sydney Vale was in the area and wanting to do an endurance ride so she and I rode Deen and Treasure on the 30 while Jeremy took Gus on the 50. The ride is always a class act. It is held at the beautiful Boggy Creek Kids Camp. The ride meeting was fun paired with a nice dinner. There is also a big raffle and silent auction which goes on throughout the weekend.
We had the fun treat of not having our LQ to stay in. It has been in the shop as not just one, but BOTH of the slides went bad on it. Super... The trailer guy said that our trailer has the top of the line slides "that never go bad". Whoever designed this amazing thing failed to have a plan if the slides go bad. You actually cannot access one of the two slides without literally dismantling the living quarter walls and cabinets. We requested that just the one slide (the one that could barely be accessed) be fixed and to disconnect the second slide and that we would deal with it and sort that out later (as we have so many races going on at the moment that we just want the trailer back).
Saturday morning Jeremy took off on Gus. A while later Sydney and I rode the 30 on Treasure and Deen. Our start was uneventful and the trail was a lot of fun. The two mares did great. This was there "after foal" race. They got through the first loop with ease. We were just keeping an easy trot. There was a bit of sand but it wasn't bad.
At our lunch stop we saw Jeremy. He and Gus were having fun. Sydney and my second loop was fun and the weather was super too. It was a bit on the hot side but there was a nice breeze. In the end we got back to camp and the two that were ahead of us had not recovered yet. We went to cool our horses and walked over at the same time as the other two riders. Treasure tied for first with one of the other riders. Deen came in 5th (there was another rider who came up just a hair after us.)
A short while later Jeremy and Gus won the 50. Somewhere out on the trail Jeremy lost an arm on his sunglasses. He improvised!! He looped a piece of baling string around his ear! He also saw 4 bears!!
The awards and dinner were fun once again with more raffle prizes. I would put this ride on your calendar for next time.
Heather
Tuesday, November 01 2016
The Skymont ride was a very nice change in weather for us. The temperature notably dropped from Florida up to Tennesee. It was a huge relief. The drive was an easy one and the horses were happy to get away from the heat as well. Jeremy and I took 2 horses each to ride one per day. I took Derby for day 1 and Gus for day 2. Jeremy took Lou for day 1 and Rictik for day 2.
When we arrived our friends Jesse and Aubree were waiting in camp for us, they had saved us a parking spot. We started to park and soon saw that our short bed truck combined with the auxiliary fuel tank in the bed of our truck was not going to allow for much navigating on the uneven terrain. We just got a new flatbed put on our truck and we have not gotten the sleeve needed yet to give us the distance we need to safely clear the gas tank. New dent... Oh well. We got it parked. Now to set up. We started to get everything set up and organized but when the time came to extend the slideouts we found out they didn't want to play this weekend. Damn things. One of them came out all slanted and jammed up. Jesse and Jeremy used a come-along ratchet strap and brute force to get it back in. One slide out worked but was leaking hydrolic fluid. Funtastic. (Turns out the hydrolics on both slides went bad and the AMAZING part about the design is that one of the slide's hydrolic systems is built in such a way that you actually have to tear out the living quarters to get to it, and this trailer company wonders why it went belly up??)
We vetted in and hung out. The ride camp is nicely shaded and by a lake. It was a pretty place. That evening we hiked, really hiked to the ride meeting. If Aubree hadn't been with us I would have totally thought we were just going out an a trail loop. It was about a mile to get to the meeting, on the trail. The meeting went on VERY long with a branch by branch trail description. Dinner was also served with the meeting. This ride is at a boys camp so the meeting is in the mess hall. It was pretty fun walking back, it was very dark and there were glow sticks.
The next morning I rode with Jesse and Aubree. Jeremy went faster on Lou. Derby and I had a great time riding with Aubree and Jesse. The trail was fun. There was a lot of single track and rolling terrain. Lots of foot work for the horses. There were also some bees! Darn things.
Derby did a great job and finished easliy. Lou came in 4th. The two looked great. After the ride was all said and done Jeremy and I went out for a ride on Gus and Rictik. No rest for the wicked. This was followed by another night hike to dinner and the ride meeting. Another equally descriptive trail narrative. Dinner as well.
The next morning I got Gus ready and once again Jeremy and I would ride seperately. As I was warming Gus up Aubree came and asked if she could take Derby on the 25 as something had come up with the horse she had planned to ride. I was happy as I wanted Derby to do 2 days. She went to go saddle him up. She is who I bought him from after all:)
Gus had a great day. He had his moments but over all he was super fun. He finished 6th and looked great. Rictik found one rock too many out on trail (there were tons of hoof twisters from roots, to sticks, rocks, ruts you name it) and pulled at the last vet check. Derby finished and he was still smiling, and so was Aubree.
Over all we had a very fun time at the Skymont ride. I would recommend this ride to anyone who wants to go see the sights. Very pretty and well organized.
This month is going to be slammed. We have races every weekend of Nov. First stop will be Boggy Creek with 3 horses, then Broxton Bridge with 5 horses, then Blackwater Boogie with 4 horses and finally JD's Carolina with 2 horses. Hope to see you out there on the trail.
Heather