Heathers Blog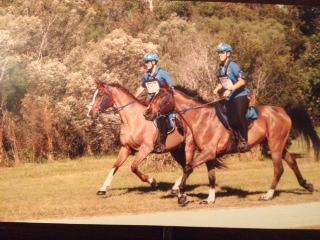 Pictured above: Gold Dust Rising with Jeremy Reynolds and Chanses with Heather Reynolds. Picture taken by Becky Pearman
Jeremy and I have been busy riding, riding and more riding getting preparred for the NAETC 2013. The race would be only 15 mins from our farm in Florida, in the Goethe Forest with camp at the Black Prong Equestrian Center.
Dust was having some big hoof issues. He is of French Arabian bloodlines and his feet leave a bit to be desired. Lucky for us Easyboot has just come out with the Easyshoe. We glued a pair of those onto Dust's front feet leaving his hinds barefoot and we were in business. Without those on his feet he would not have made it to the starting line this year. For the 5 weeks leading up to the championship Dust trained aggressively in his Easyshoes. Life was good. The best part was when we took them off it was clear that his feet were able to greatly improve while doing heavy training, that's a first!!
Jeremy and I had taken in 3 horses for training the month leading up to the race, two of which would do the championship. It was not our intenet but we now own one of those horses. We liked him so well we just went for it. We now own Kowboy CS, we bought him from Canadian rider Yvette Vinton.
Chanses, Kowboy and Dust all trained exceptionally well. They were all ready to rock and roll. It would be Kowboy and Dust's first 100. Kowboy and Dust had both done several 75's. Our friend Nicki Gilbert who is a Great Britain rider would ride Kowboy, I would ride Chanses and Jeremy would be on Dust.
Chanses had won the 100/160 in New Mexico in late Oct but I wanted to have 2 consecutive completions on him as we had been sorting out a hind end issue that is now resloved, New Mexico as proof. I needed this race to show the selectors for the USA team that we had truely fixed the issue.
The Sat before the race, so 6 days before the race, our good friend Dixie Snyder from CA flew in with her daughter Heather. Dixie has done amazing work on Jeremy and I as well as our horses. She worked extensively on our horses Kutt and Marvel, before the World Championship in London as well as our Tevis winner, Riverwatch before he won Tevis with the Haggin Cup. Dixie had agreed to come out and have a stay in FL while helping our horses be ready for a great race.
On Sunday we booted the three horses in their Easy Boot Glue Ons and clipped them all as well. I clipped a heart on Chanses hip, a lightening bolt on Dust's hip and the letters "UK" on Kowboy's hip. I know I should have written GBR, but you try clipping that;)
On Monday we packed things up and then Dixie, Heather, Jeremy and I went to the Rainbow Springs head spring and went for a refreshing swim. It was so great, there wasn't really anyone in the water but us, and that water is crystal clear.
Tuesday the horses had to be in the stabing area, at the race by noon. The race was not until Friday but that was how the race was written so that is when we all had to be there by. The South East Team had a really cool area to camp and hang out. The team had rented a cabin that had a barn attached to it, there were also nice paddocks near the cabin for the horses. The amazing Lynn Kennelly hosted the team and was AWESOME. She made sure everyone had what they needed and she kept us all well fed.
We went home and left the horses at the race on Tues night as they were in a very safe solid permanent paddock. We did have to make the paddock smaller with some hot tape as the size was regulated by the officials.
On Wed morning we came out and someone had run through the hot fence. No one looked like they had an issue. We grabbed Chanses and Dust to go for a ride and as I was grooming Chanses and noticed a lump on his neck. He was also shivering. I texted our team vet thinking that he had been the one to go through the fence so she could check on him when she arrived. We went for our ride and Chanses felt like garbage. When I took his tack off he was still "shivering" but just on his shoulder/neck. This was a real problem, not shivering.
Dr Anne Christopherson checked him over and it was decided that it was actually a reaction from his Pentason Shot he had been given on Tuesday morning. He also had a temp of 102.4 Anne went to work with her accupuncture. She got his fever to break. Scott Hie came to check him for me chiropractically just in case he had additionally gone through the fence.
After that he had ice on his neck 25 mins of every hour. On Wed Nicki, Andy and their friend Michelle arrived as well as Skip. Opening ceremonies, followed by a dinner happened Wed night. When I went to sleep on Wed night I really thought I would not be racing Chanses.
Thursday morning Chanses looked a lot better, still had a lump in his neck and still couldn't reach the ground but he looked bright and perky. I took him for a ride to make my decision. He didn't feel perfectly normal but he didn't feel stiff and jerky either. I decided that with a whole day ahead of us that I would try to race him.
The day went by in a blur of last minute preparations. Thursday night I was ready to sleep. I slept soundly until the 3:30am "feed the horses" alarm went off. We hiked out to the paddock and fed the three guys and then tried to fall back to sleep. I didn't sleep well from then on.
When it was time, we got up and tacked the horses and started our warm up. Our horses had their Toklat Matrix pads and Reactor Panel saddles. We had given the horses their Redmond salt in their early morning feed so we didn't have to electrolyte before mounting.
It was really cold so we warmed up with the polar fleece blankets under us draping the hind quarters.
The start was easy, Chanses and Dust parted ways and I just went along on Chanses. He felt decent. He'd rather do a big trot than an easy canter because of his neck. I was so happy that both Dust and Chanses had on their Easyboot Glue- Ons as there were stretches of sharp limestone roads. About 10 miles into the 20 mile loop Dust caught up to us with a large group. Dust was happy to see Chanses. We rode together from then on. The two recovered great at the first vet gate.
On the second loop Dust and Chanses cruised around the 15 miles easily and again recovered fast. On the trot outs Dust looked questionable so he had to recheck before we left. Luckily he looked good on the recheck but it made Jeremy really qustion if he should continue. We kept a close watch on Dust on loop 3. After a few miles we realized that we had forgotten his splint boots. Then we thought that maybe that was a good thing. Dust has big splints and maybe the boots were rubbing them and soring him up. Dust never looked back. Loop 3 was 20 miles. The two recovered great again. By this time Chanses finally felt like Chanses, it only took 55 miles! He still had a small lump on his neck but was moving how he should be. It was at this check that Kowboy was later pulled. We later found burn like marks that were ozzing on three of his legs (I guess it took a little to show up, as we had not seen this before) from what we assume was him being the one that took down the hot tape a couple days earlier.
Loop 4 the horses cruised another 15 miles through the heat and sand. The whole trail is sand, some of it is pretty darn deep. Chanses and Dust felt great. We were averaging 12 mph or 19.2 Km. They recovered great again. At this check, mile 70 the vet looking at Chanses wanted to recheck Chanses for gut sounds and gave him a C for gut sounds. I wasn't worried as Chanses was really hungry and ate great the whole check.
I went back for the recheck and there were 3 vets to vote on his metabolics. No big deal. His guts had gone from C to a B. His vet scores were all B or better. His trot and impulsion were an A-, his CRI was 52/52. The vets were also talking to each other while vetting, which if they are voting they are not supposed to do. With all of that you can see why I was was really surprised when I was told he did not pass. In my whole career of racing I have never thought I had been judged unfairly until this. My Chef asked the vets why I had been pulled. The vet didn't have a precise response. He said that they felt he was declining metabolically. Then my Chef pointed out the horse had gone from a C to a B. The vet then said that they might have been hearing an inconsistent heart murmur and maybe I had an electrolyte problem. I walked away. As I walked out spectators were also shocked that I had been pulled and offered video footage to show how good the horse looked. I had my team vet listen immediately to his heart, at that time, less than 1 min later it was perfectly fine, this horse has never had any heart murmur and still doesn't. We then did immediate blood work. That was all within normal range as well. I have NEVER complained about a vet call on my horse until this. That's all I have to say about that.
Dust left out on Loop 5, another 15 mile loop. I missed his departure as I was getting my bloodwork done.
When Dust came in to the last hold he had made up more time on the leader Nicki Meutin, who at one point had been over 20 mins ahead of him. At this point she was now only 5 mins ahead. Valerie Kanavy and Kelsey Russel were also in the hold all in close contention. Dust looked great and ate like a champ for the 20 min hold. Then off he went.
Our amazing crew started to take down our vet area. To name a few, hopefully I don't forget too many: Dixie Snyder, Daughter Heather, Elaine Lemiuex, Lynn Kennelly, Misty, Leslie Goodyear, Andy Thorne, Michelle and then the Team Vet Anne Christopherson and Chef Otis, as well as a few that came and went throughout the day. This crew was amazing!!!! Not enough thank you's in the world for them..
After a bit we all went to the finish to see what the outcome would be.
Out on trail, Jeremy was gaining on Val and Kelsey. He stopped to feed Dust at a trough and could hear them talking. He caught them (around 6 miles into the loop) and they all rode together for a while. Then they caught up to Nicki, (about 8 miles into the 15 mile loop) who had gotten lost without a headlamp. Nicki rode along with Jeremy, who did have a headlamp, for a couple of miles but then Dust pulled away. At 8 hours and 20 mins of riding, out of the darkness came a bright and happy Dust!! Soo excited for Jeremy and Dust:) This was Dust's first 100/160. He looked just awesome.
The next morning at BC Dust looked spectacular. He flew and floated around his trot out. The head vet told Jeremy later that it had been really close and that Dust had moved amazingly well. In the end BC went to the horse Kelsey had ridden, belonging to Valerie Kanavy, My Wild Irish Gold.
In all it was a great weekend for Reynolds Racing. Jeremy won the Individual Gold as well as being part of the Gold Medal Team.
We will see you all at Greenway Getaway.
Heather