Heathers Blog
Thursday, January 08 2015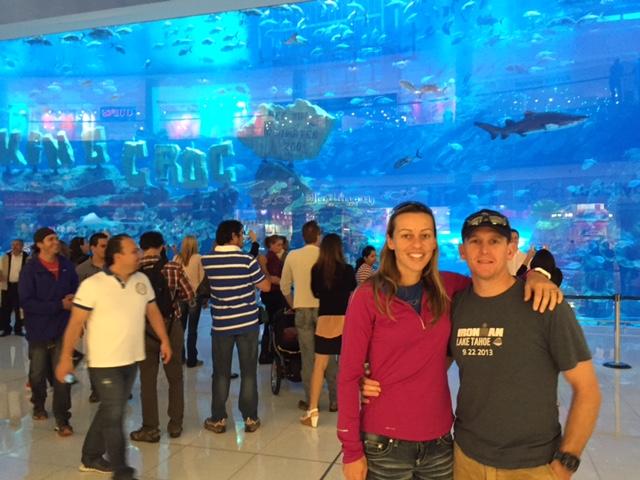 We travelled all day yesterday, and even lost a day somewhere along the way. We left Orlando at 3:40 pm on the 6th and landed in Dubai at 7:40 pm on the 7th. When we reached Dulles, on our layover, we had dinner with Krista and Glen, who were both on their way to Dubai as well. My sister also landed there but was later so she ate a quick bite just before we all boarded the flight for the long haul, the 12 hour flight to Dubai.
When we landed we got to skip to the front of the customs line and go straight to baggage claim. After that there were suppossed to be people with signs with our names on them to pick us up to take us to our hotel. There was one guy holding a sign and it was Glen's name on it! We all piled into his car, Canadian flag hanging and all! Very nice.
Once we were at the hotel we all checked in and then regrouped about 30 mins later for a bite to eat. The group was Holly, Jeremy, Glen and myself, later joined by Emmett and Krista. Great food and fun conversation. We hit our pillows just before midnight. Our room is gorgeous.
This morning we got up and stepped out onto our balcony to see the track horses doing their morning workouts on the track just below our room. Pretty awesome. We went down to breakfast and saw several others from the USA group. We decided to go to the Dubai Mall as there was a tour bus heading there and we didn't have a horse to care for. We had a great time looking at things and seeing the aquarium and various sites like the huge waterfall and the fountain.
When we returned to the hotel it was time for the Meydan luncheon. We had another delicious meal and were also each given a swag bag with a hat, polo, jacket, gear bag and a trophy plaque. Pretty nice.
Now Holly, Jeremy and I are on our way to go see Ssamiam, or One-O-Six. Can't wait to see him:)
Heather