Heathers Blog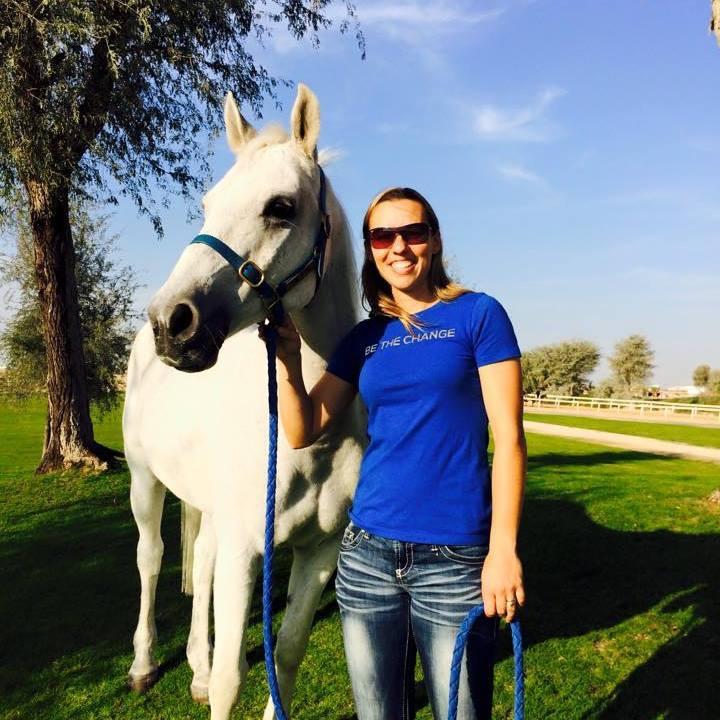 Pictured above: Ssamiam/ One-O-Six and I
Yesterday afternoon we had the privelage of going to the barn where Ssamiam, now known as One-O-Six, lives. It is a beautiful stable with gardens all around. There are also many cats and birds on the grounds. The Pea hens were all pecking around in the grass, and the flowers were vibrant.
Our friend Uma Mencia came and picked us up from our hotel to graciously tour us around. It was about a 10 min drive to the stable. This is one of Sheik Hammdan's stables. There were over 200 horses, if I had to guess.
When we arrived there were horses and grooms all around. The amazing thing is that each horse has their own groom, who is their groom all the time, this gives the horse a stable person to count on and be very familiar with. The horses all loooked great. They were all at a very healthy weight and groomed to a shine, and this was not a special occasion, just a regular day.
We went in to the barn that Sam was in and he looked like his usual self, he had a twinkle in his eye and a playful look about him. Uma let us take him out for a walk around the grounds where he could graze. It was pretty awesome as she was telling the people that we walked by that he was my horse. Sam had fun hanging out with us and grazing. He also was very quick to jog around when asked and he was springy and very sound. After picture taking and a little visit we took him back to his stall and toured the rest of the stable grounds. It is amazing seeing all of the tracks to train on and the pool for the horses and equipment at the facility. There is also a lake full of flamingos on the training track, pretty awesome.
Sam is in a great place. He has been here since 2010 and is turning 14 this year. He looks well and his legs look clean.
At the end of our visit we said hello to the trainer, Salem. We had a brief talk of the races that we would be watching that evening at the Meydan Racetrack. Salem had a few horses entered in the flat track races that night. I then told him that Sam had been a pretty decent race horse before endurance. He was a little surprised. Good 'ol Sam is full of surprises. He looks like someone's backyard pony and yet he was 4th across the line at the 2010 WEG (his second 100 miler) and he won over $42,000 on the race track. Such an amazing horse.
When we got back to the hotel we got changed and headed over to the suite that we would be viewing the races from. Very fun evening. There was 1 Arabian race on the card followed by 6 Thoroughbred races. Bigg N Rich won the Arab race. We noticed that Bigg is very closely related to the horse Jeremy rode in France this summer at the WEG, Gold Dust Rising.
After we had seen most of the races we decided to go back to our hotel restaurant for dinner. There is an outdoor eating area that we could still see the remaining races from as we ate. We sat with the other USA riders and had a fun time.
Around 10 we went back to our room to wrap up our day. Friday we vet in and Saturday we race. I still don't have credentials so hopefully that gets resolved! I'm sure it will.
Ok, now it is Friday. Jeremy keeps waking up WAY too early, so he went to the gym and for a swim this morning in the amazing pool on the 11th floor. The infinity edge of the pool, overlooking the race track, is a glass wall and glass floor so you can see through to the track and also see below you from the pool. We got Jeremy from the pool and had breakfast and now we are waiting to go visit with a farrier who shoes a lot of the race horses for Mike de Kock. My sister Holly is going to talk with him about the Easyboot products and we are going to tag along.
After that we will head out to the race venue, which is about an hour drive from the hotel. Vetting in, weighing in and the ride meeting are all this afternoon. Melody Blittersdof and I are having some type of interveiw as we have been selected as the USA Embassadors. Then there is a dinner party out by the race venue. After that I am sure we will be heading straight back the hour drive to the hotel and going to bed for an early start tomorrow.
Heather