Heathers Blog
Wednesday, October 12 2016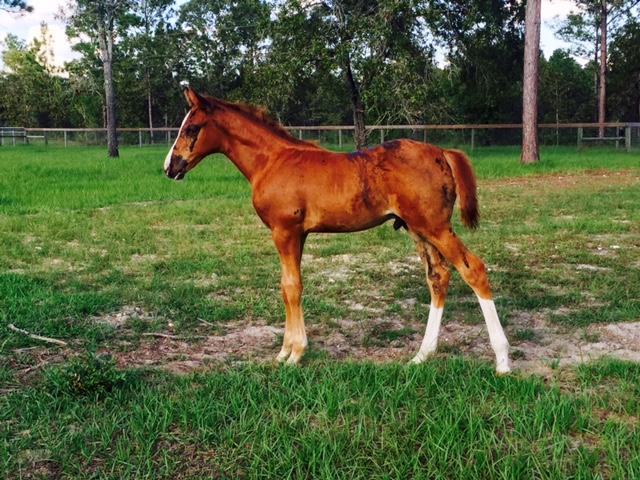 Pictured above: RR Gogh Gogh Gadget
Just a quick update, Gadget is doing super, he is bigger and stronger than the fillies were at his age. He is only 2.5 months old. He is very fun to have around and I think he is going to be a blast when he is finally old enough to be ridden.
We did our first ride in Florida since returning from CA. The New Smyrna Beach 50. Jeremy, Elaine, Marta and I all rode. This ride is almost always a sticky mess. We have camped at this ride two times and after the first time we swore we would never camp there again...after the second time camping there we remembered that we would would never camp there again!:)
The first time we camped at this ride we had two friends staying in the trailer as well. None of us slept. The bugs were coming through our srceen door and we were not allowed to run our generator after 10pm so we were just roasting to death in our trailer while being eaten alive by bugs. In the morning, we all felt like we had been on an episode of Naked And Afraid...Never again.
That said, Marta (our new friend from Spain who is attending college in Gainesville for her masters degree) came to stay at our house on Friday night. We got up at Oh-My-God in the morning and caught the horses to give them their electrolyte mash. We would be taking 4 horses. Jeremy on Lou, Elaine on Rictik, Marta on Gus and myself on Derby.
We left our house around 4:30 am. It is about a 2 hour drive and we needed to check in, set up our crew/cooling area and vet in. The drive was uneventful, always great when it's that way. Elaine met us there.
I did hear of many people who auditioned for "Naked And Afraid" in camp the night before this ride too!:) One person even packed up and drove away in the night. Glad we drove in, in the morning.
We set up our crew area with lots of cooling buckets and put our two big ice chests that were full of ice nearby. (The ice chests held over 300 lbs of ice which we used every cube of during the ride due to the heat) The weather has been CRAZY hot in Florida. This would be no exception. It was calling for low 90's with 75-80% humidity.
All the horses vetted in and we saddled up. The start was a slow mosey for us, as it would be all day. The horses seemed to enjoy being somewhere different than their home training trail. The morning was fun. Loop one went well. The horses even recovered fast considering how hot it already was.
Loop two was going great until we were almost back to camp. There was a log in the trail and Lou went over it and then Gus clunked over it, hitting his knee really hard on it as well as slicing his leg open on a knot sticking out of the limb. He was still sound however so we continued.
The next vet check went fine again, and all of the horses were dealing with the heat very well. Loop three was fun but getting hotter still. The trails at this ride are very repetitive. You pretty much do the race two times with a couple of variations. I still find it to be an entertaining ride. At the next vet check Gus realized that his knee actually hurt. He was pulled. Bummer. Marta's first ride in the USA. Darn. She will be around for the next couple of school years so I am sure we will have many more opportunities for her to get around.
The last loop the horses all did fine. We were sweating our asses off and turning into slap happy dehydrated riders, but the horses were great. They had no trouble and we enjoyed ourselves. We saw a turtle or two out there as well. Good times for sure. After all three vetted in we cleared out our crew area and had a bunch of yummy food that Elaine had packed. After this we hit the road for our two hour trip back. The horses were spectacular in handling the heat and when we got home all 4 galloped around their field.
Our next ride was Skymont which I will catch up on soon.
Heather